When you get to step 3 of creating your consent notice "VENDORS & PURPOSES", you have to select the vendors that you wish to add to your notice, and link them to purposes.
The Didomi console gives you the opportunity of creating your own purposes. That is useful if you do not want to link the IAB purposes (even non-IAB vendors that are in the Didomi database are linked to IAB purposes by default) to one or more of the vendors that are dropping cookies on your website.
To create a custom purpose:
Click on Data Manager on the left-hand side menu on your screen. (1)
Click on PURPOSES. (2)
Click on + ADD PURPOSE on the top right-hand side. (3)


You have to give the custom purpose a name.
Describe it in the field underneath if you wish to.
Do not forget to SAVE & CONTINUE at the bottom of the window once you are done filling in the fields.
For instance, if you want to create a "Social media" purpose:
You will find it in your list of custom purposes after this step: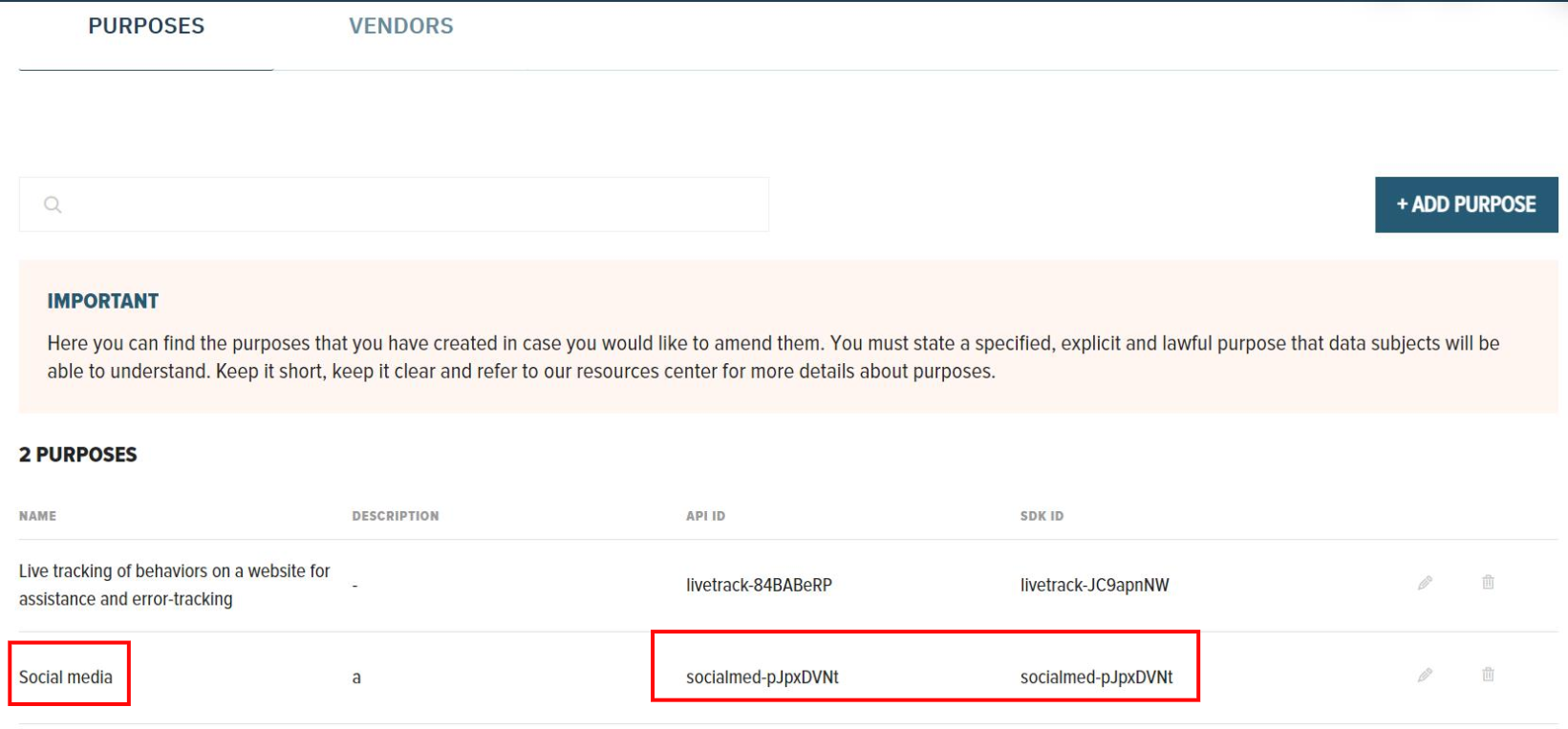 In order to link your custom purpose to a vendor, stay on Data Manager (1).
Go to the VENDORS (2) section.
Click on "+ ADD VENDOR" (3).

Fill in the fields, first name your vendor (1) (in our example here we will name it "Facebook"), second, add its privacy policy (2), and third you will find your custom purpose (in this example "Social media") in the PURPOSES

section of the window.



Vendors can have two types of legal basis for their purposes: consent or legitimate interest. You can choose which legal basis you want to assign to your custom vendors and purposes.
Choose the custom purposes that you want to be based on consent in the field "Purposes based on consent". (1)
Choose the custom purposes that you want to be based on legitimate interest in the field "Purposes based on legitimate interest". (2)

Click on SAVE when you are done.
Find your purpose in your Consent Notice: