AT Internet is an analytics solution authorized by the French Data Protection Authority (CNIL) to provide analytics services exempt from user consent. AT Internet supports three modes:
Exemption (CNIL exemption)
Opt-in (Full analytics tracking)
Opt-out (Complete deactivation)
Didomi will support the exempt and the opt-in mode while the opt-out mode will have to be added on one of your websites pages.
⚠️ Other Data Protection Authorities in Europe may not allow analytics with AT Internet if consent is not given by the user.
This guide will help you activate the AT Internet hybrid measure to use the CNIL exemption mode.
Prerequisites
The following AT Internet prerequisites are necessary to use the hybrid measure feature for the exemption mode:
The use of their smart tag
The activation of the Tag Composer Privacy plugin (available in JavaScript version 24.0).

Configure Didomi (for Exemption mode)
If you are using the AT Internet exemption mode, you will have to:
Change the Preferences - Purposes text
⚠️ When using the AT Internet hybrid measure feature, you will have to add information regarding your usage of Exemption mode and a link redirecting to one of your website pages. This page will have to allow your users to completely disable AT Internet (opt-out mode).
Browse to the Consent Notices section on the left menu.
Select the notice related to the use of AT Internet.
Click on the LOOK AND FEEL

step of your notice.

Scroll down to the

Preferences - Purposes

field to change the content of the text displayed at the top of the Preferences view.




Add the following mention to the existing text in French (you can change it to fit your needs if you want to):
Nous utilisons également des traceurs exemptés du recueil de consentement pour le dépôt des cookies de mesure d'audience. Vous pouvez utiliser une fonction d'opt-out via notre <a href="https://www.example.com/opt-out-link">politique de confidentialité</a>.
Replace the link "https://www.example.com/opt-out-link" in the text above for the one you want to use. If the link is the same as the one you are using for your Privacy Policy, you can use the {privacyPolicyURL} macro.
Here is an example of the "Preferences - Purposes" text including Exemption mode information: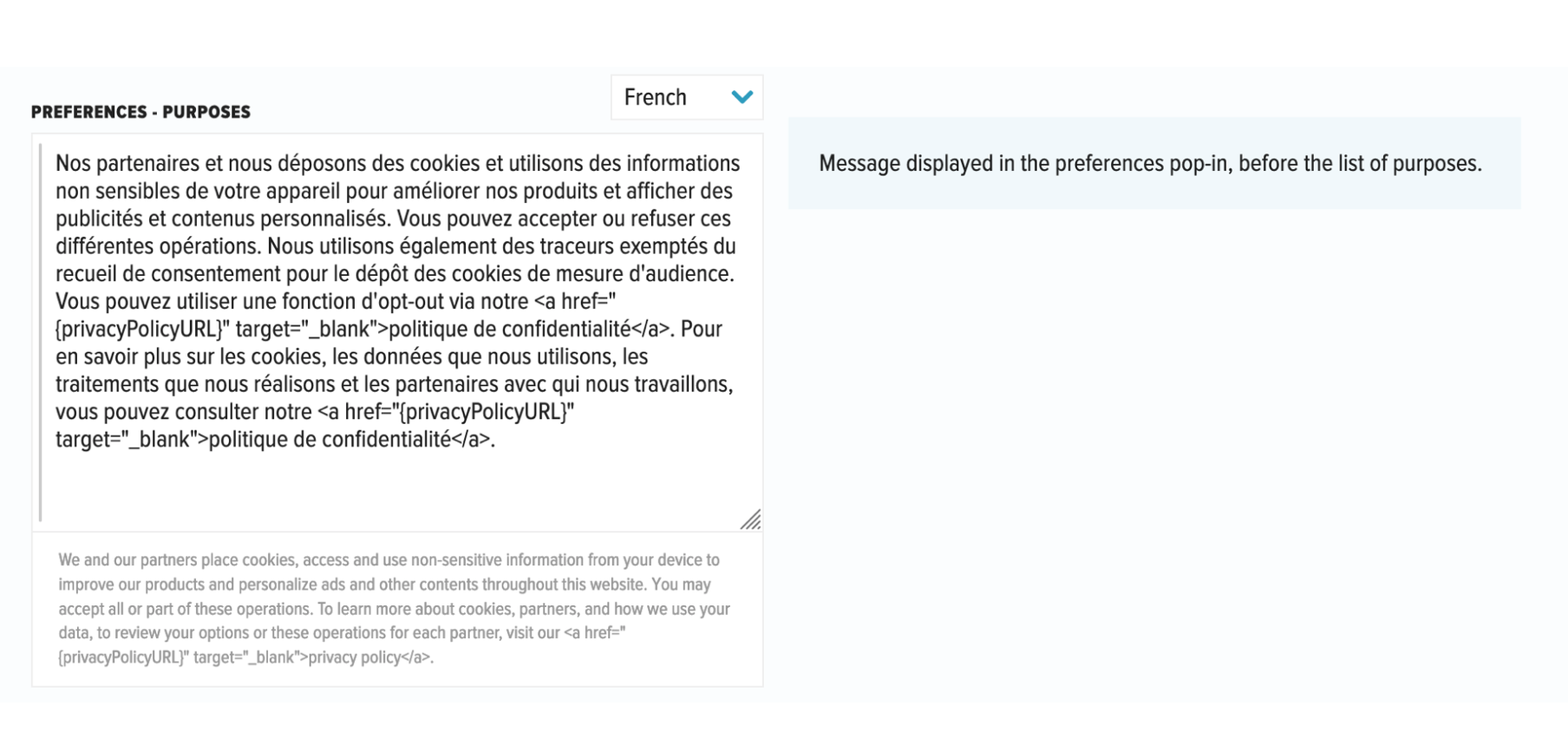 Select the vendor in the consent notice
Click on the VENDORS & PURPOSES step.
Select the AT Internet (Hybrid Analytics) vendor with the IAB/SDK ID "c:atinterne-cWQKHeJZ".

Click on the SAVE & PUBLISH button on the top right of the page when you are done.
Enable the correct AT Internet mode on your website
Once everything is configured in the Didomi console, you have to enable the correct AT Internet mode on your website, by adding some code along with the Didomi embed code.
⚠️ Note that for Opt-out mode, AT Internet also suggests that you add a way for the user to completely deactivate the audience measurement. It requires you to adapt your code to disable the corresponding vendor and purpose along with the audience measurement feature (deploying an opt-out button, for example).
📰 You can find the code needed and the corresponding guidelines in the developers documentation.
🎉 After the implementation of the above steps, the link between AT Internet and Didomi is fully implemented.