The Magento 2 e-commerce platform has now become Adobe Commerce.
The CMP is now available for those using Magento 2 on their website. As a reminder, Adobe Commerce is an e-commerce platform that offers various extensions to optimize your website.
Didomi is now an extension for Adobe Commerce: you are now able to get the CMP (Consent Management Platform) from Adobe Commerce.
Please note that you need to have a Didomi account to install the CMP from Magento 2.


How to find the Didomi integration from Adobe Commerce?
Go on Adobe Commerce.
Click on Go to Marketplace.
Go on the Extensions tab.
Go to the Content & Customisation section.
Then on Personalization & Experience Management.
Select Didomi Consent Management.
Click on Add to Cart.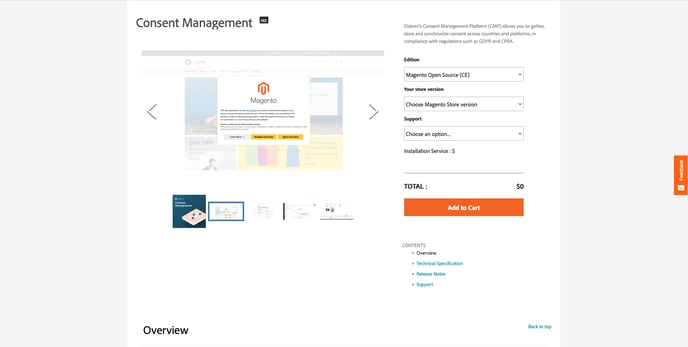 You can also directly enter "Didomi Consent Management" in the search bar.


How to install the Didomi extension from Adobe Commerce?
The installation is free of any additional cost for Adobe Commerce users having a Didomi account. Once you get the Didomi extension, you can proceed to installation:
In your composer.json file, make sure to have the following url: "https://marketplace.magento.com/".
Update the composer.json file with the name and the version of Didomi.
Check that the Didomi extension is properly installed.
Enable the extension.
If you would like more information about Didomi X Adobe Commerce, do not hesitate to consult our user guide on Magento Marketplace (Adobe Commerce Marketplace).