This section's goal is to succinctly present you the steps that will allow you to set up your Privacy Center with the Didomi console.
Login to the Didomi platform
Enter your login details.
Click on SIGN IN.
Configure your Privacy Center
Customize your Privacy Center
Enter your login details.
Sign in.
Click on the Privacy Center tab on the left-hand side menu.

Click on the + NEW PRIVACY CENTER.
Fill in the fields with the appropriate information.

The URL per default of your domain name will be :
https://company-name.privacy-center.org/.
📰 You can definitely customize this URL by following the steps of our
technical documentation
that will allow you to point your domain name to the Privacy Center.
💡 Please contact us at this address :
support.didomi.io
in order for us to finalize the operation on our end once this step is finished on your side.
You will also need the URL of your logo as well as the hexadecimal code of your brand's main color for the customization.
You can choose to add a privacy policy. It must be written in Markdown. To do so, we have done all we could do to make it easy for you. You just have to click on "B" when you want a title to appear in bold, and on "I" when you want a text to appear in italics. You can preview your policy by clicking on the eye.
You can add images or hypertexts links by clicking either on the image tab or the hypertext one.

You can also display your policy on the left to see exactly what it will look like while you are writing it in Markdown, by clicking on the following tab.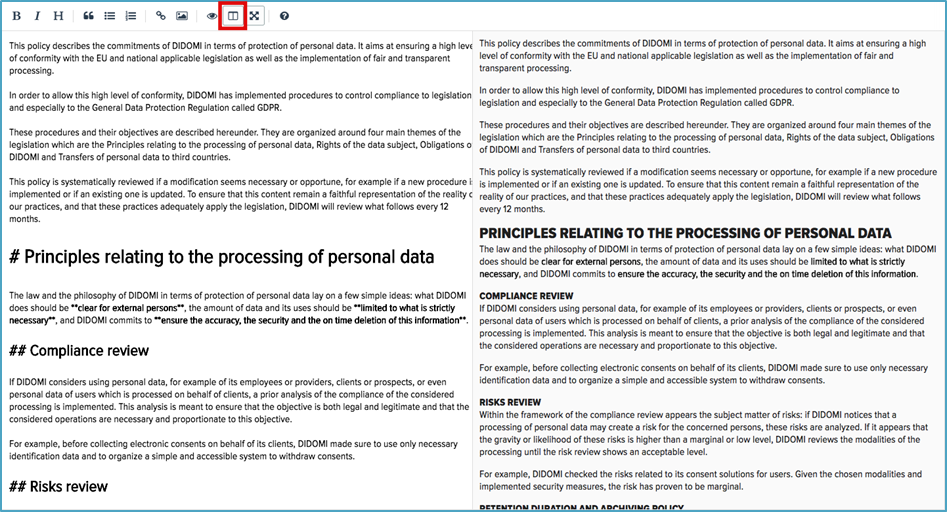 Choose the cookies
You can choose to display or not the list of the cookies that are present on your website:
Click on COOKIES DISPLAY TYPE.
Select the option you want in the drop-down menu.

If you have deployed our cookie consent notice, allow the user to withdraw or to renew his consent regarding cookies that are present on your website, directly from your Privacy Center:
Select Display a list of cookies and allow user to opt out.
Select the report of the website linked with the Privacy Center
Here you have the list of reports that you have launched on your website. They are the cookies that were detected by our bot during its visit on your website linked to the Privacy Center that you are configuring.

You can preview your Privacy Center at any time of the process from the menu Privacy Center:

Or also by saving the changes while you are still configuring your Privacy Center, you just have to click on Preview your Privacy Center:

Select the treatments that will appear on the Privacy Center
The Privacy Center allows you to display complete information to the user regarding what is done with its data when he connects to your website.
For every treatment, all legal information is displayed in table format to the user when he does in the tab Your data: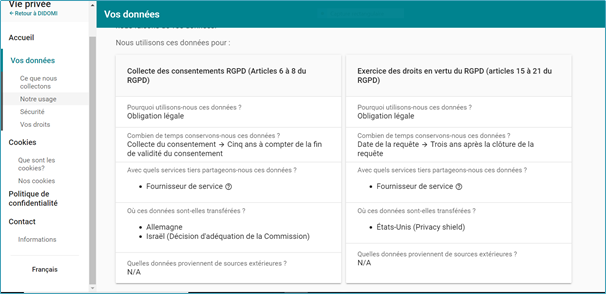 The section Data Processing (register of processing information) available on the Didomi platform allows you to fill in these tables that will then be displayed to the user on your Privacy Center.
Read our detailed guide about the Data Processing tool (register of processing information) for more information.
Choose the treatments that will appear on your Privacy Center by selecting them in the last part.
Click on SAVE.
Create a redirect link to the Privacy Center on your website
Insert a link to your Privacy Center on the pages of your website. Here is the updated documentation that will allow you to implement the redirect link to your Privacy Center.
Most of our clients deploy this link in the footer of their page next to the legal notice of their website.

🎥 Here is a video that will show you what your Privacy Center will look like once you have finished configurations from the Didomi platform :