The User Request list provides you with a clear overview of all requests submitted by your end-users via a Privacy Requests widget or an API.
To access the User Request list:
Go to the Privacy Requests tab, in the left menu.
Click on the USER REQUESTS tab.
This page contains a list of all privacy requests. This is where you can manage end-users privacy requests, by searching for a request, updating or changing its status, or informing your end-users of any progress in their requests.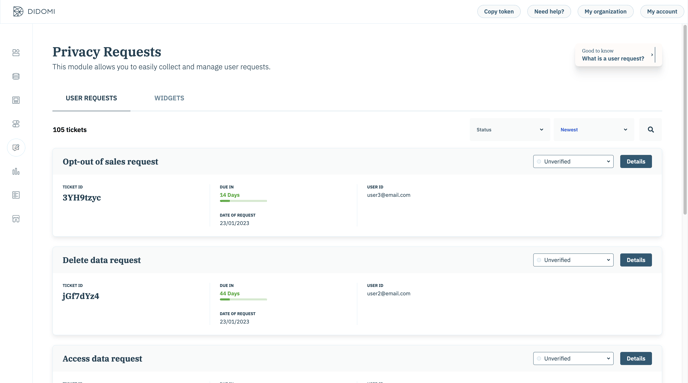 Requests
For each request submitted by your end-users, there will be a dedicated card in which further information will be displayed, such as:
Type
Request status
Ticket ID (ID of the request submitted by an end-user)
Due date
User ID
Note
Date of request (when the request was submitted)

Due Date
Once a privacy request is submitted, the organization needs to process the request within the statutorily defined deadline. The deadline varies depending on the request type and the applicable data privacy regulation.
To assist you in responding to requests on time, we calculate and display the number of days until the deadline for each request in the User Requests list.
User ID
The User ID of a request is associated with a unique user identifier.
If the privacy request is submitted through the Privacy Request widget, the User ID will be the email address that was used to create the request.
If the privacy request is submitted through the API, the User ID can be something other than the email address. For further info on how to use different User IDs, please check our developers documentation.
Status
A set of six statuses are available in the Didomi Console to assist you in managing the requests.
Although we provide pre-defined logic and emails for each status, you have the flexibility of creating your own logic and emails based on your workflow.
Check how you can update the request status and what these statuses mean.
Filter, Sort, and Search
The User Requests list includes several features to assist you find the requests you are looking for.
You can filter the requests by status to view only those you need to work on or those that have already been answered in the past.
You can filter out the requests by status and then display only the requests you need to work on or the one you have already addressed.
Furthermore, you can arrange the requests using various sorting options to find the most urgent request to address.
Newest - Sorted by creation date, descending order
Oldest - Sorted by creation date, ascending order
Most urgent - Sorted by due date, descending order
Least urgent - Sorted by due date, ascending order
Finally, you can browse the requests by searching using the User ID or Ticket ID.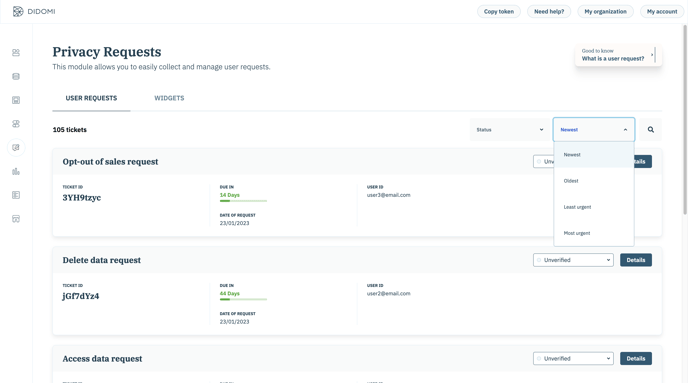 ---
For more information on privacy requests, refer to our complete guide.