The Cookie Policy Manager is designed to help you assure identification, auto categorisation, and export of the qualified-cookie list to generate your cookie policy page.
You must have Smart Cookie Policy access rights within Agnostik environment.
Trackers is a term used to describe Cookies, Pixels, etc.
General overview
This module can be accessed on https://facettes.io/#/trackers/cookie-policy, from the left menu, under the "Trackers" - "Cookie Policy" section :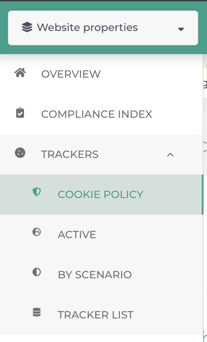 In a simple way you can associate purposes to unqualified trackers, manage a qualified tracker list and export it for use in building your Cookie Policy page.
The ultimate goal is to narrow down the number of unqualified trackers to 0.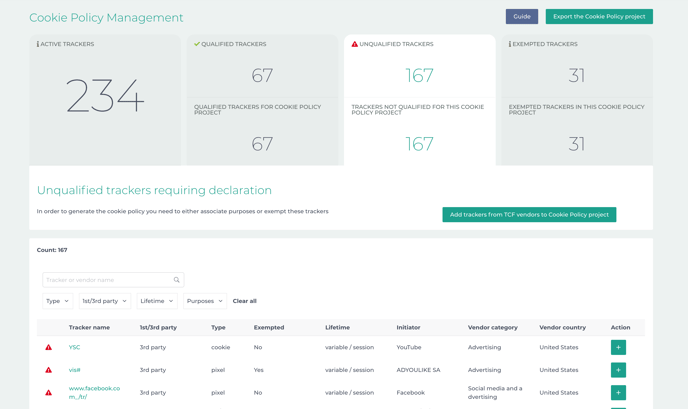 Key indicators
In the Cookie Policy Manager you have 3 main parts :

This section provides indicators regarding the tracker on your website.
The first line displays information about your current environment following a scan,
the second line is a projected view of your future cookie policy indicators.
The main indicators (those of your current environment) are clickable. Each of them will give a specific view on the table below.
Informative text

For each main indicator, an informative text accompanies it to help you understand the information displayed or the actions you can take.
Table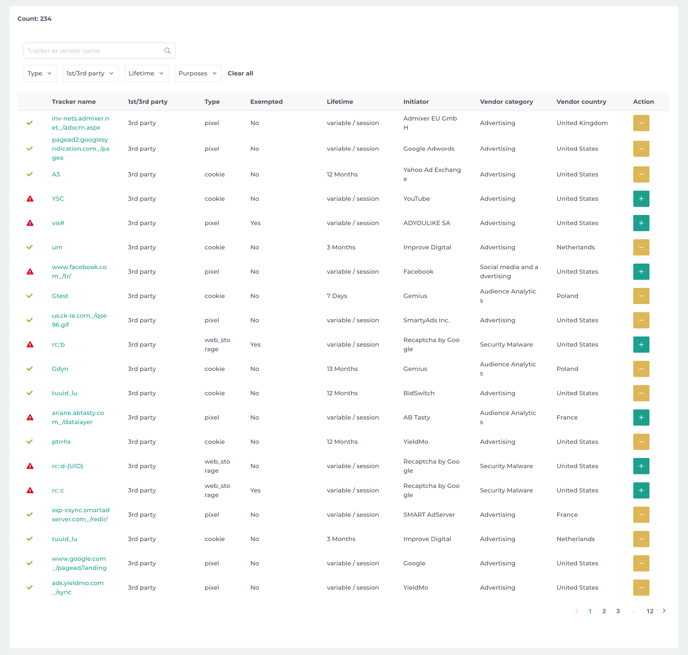 The table allows you to have a first level of information about the trackers.
Key indicators details
Here you have detailed informations about each section
Active Trackers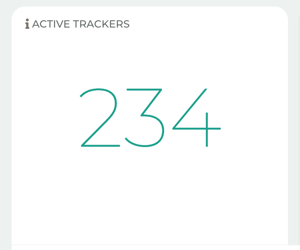 This section displays all trackers that were detected on your website for the selected period.
Qualified Trackers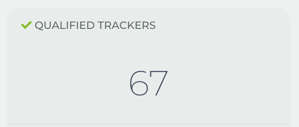 This section displays trackers that are already qualified
A qualified tracker is a tracker which has at least one purpose associated with it.
By default the system auto-qualifies trackers whose vendor is in the IAB TCF V2. It means that purposes declared by the vendor on the TCF will be used to qualify the tracker automatically.
Unqualified Trackers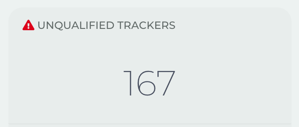 This section displays trackers that are not qualified.
Only qualified trackers will appear in the Cookie Policy list.
To qualify a tracker you must associate it with a purpose.
Exempted trackers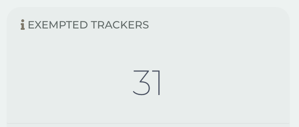 This section displays trackers that are exempted from consent.
Projected Cookie Policy section

This section allows you to have a projected view of the state of your future cookie policy.

When you qualify a new tracker, the indicators change to give you the projected view once you have done the export.
Table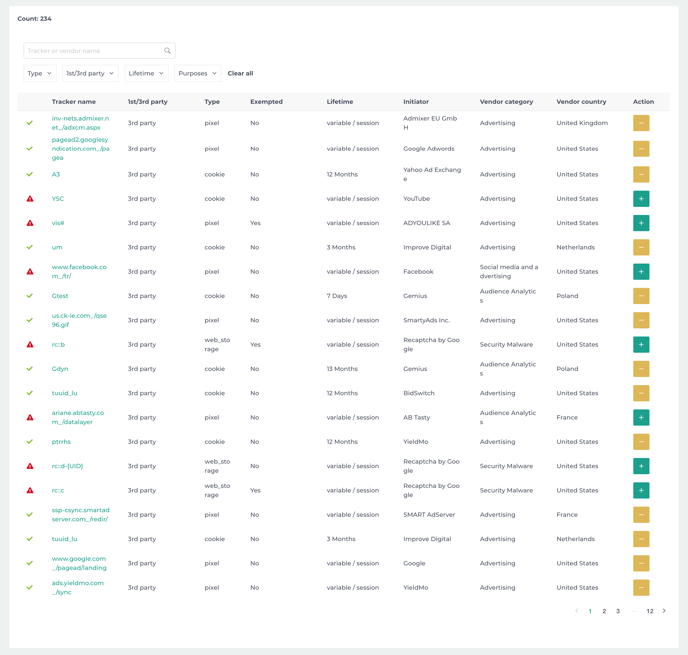 The table allows you to have detailed information on trackers
check or warning if a tracker is in the cookie policy or not
name of the tracker
if it's a 1st or 3rd party tracker
its type (pixel, cookie…)
if the tracker is exempted or not
its lifetime
the vendor that initiated the tracker
the category of the vendor
the country of the vendor
Filters

When you want to search for a specific tracker you can type its name on the search bar.
You can also use filters to be more precise in your search.
All the filters are cumulative and therefore multiple selection is possible.
For example, you can search for 1st party trackers that are Cookies with a Lifetime greater than 13 months :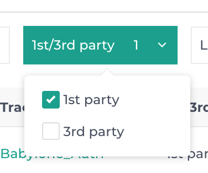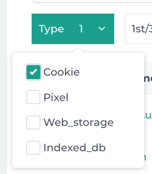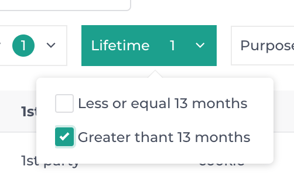 When you are done you can click on the Clear all button to clear all filters.

Tracker details
By clicking on the tracker name you can access its details.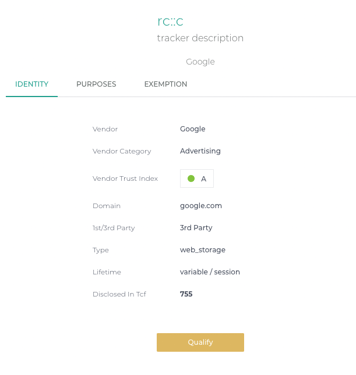 By clicking on PURPOSES tab, you access the purposes associated with the tracker.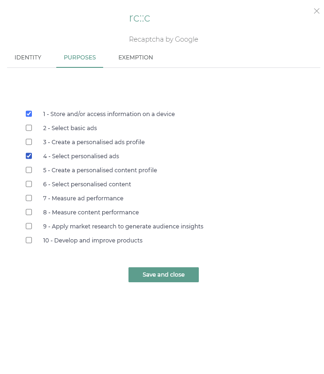 The only purposes available are IAB. Defining custom purposes is not available at the moment.
By clicking on EXEMPTION tab, you access the exemption status configuration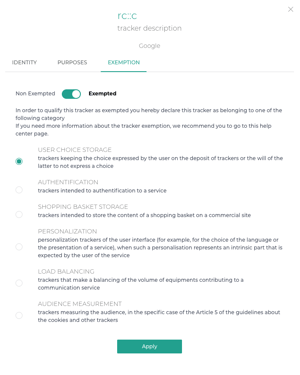 How to
How to qualify a tracker
Click on Unqualified Trackers indicator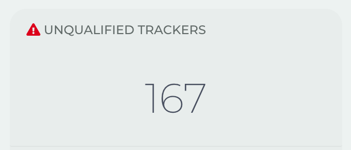 Choose the tracker you want to qualify to add it in your cookie policy by clicking on its name or on the plus sign in the action column.

Click on the Qualify button or go to the Purpose tab

Select the purpose that matches the tracker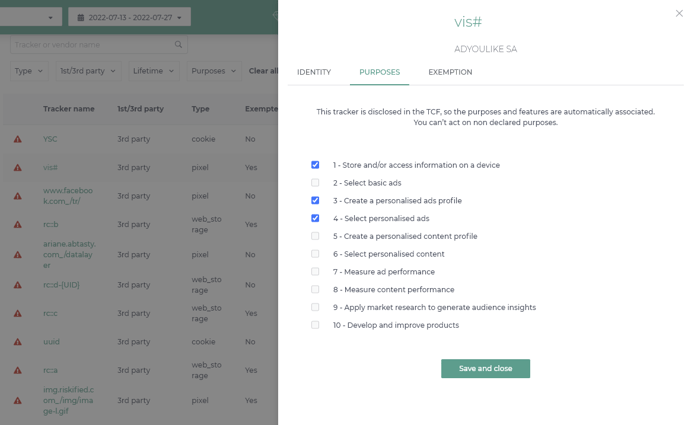 Then click on the Save and Close button.
A confirmation message will then appear

How to exempt a tracker
Some trackers can be exempted from consent
ℹ️ Keep it mind that this action will not act on your technical environment. If you exempt a tracker on Facettes, you will need to configure it on your environment and update your CMP behaviour.
Choose the tracker you want to exempt by clicking on its name or on the plus sign in the action column.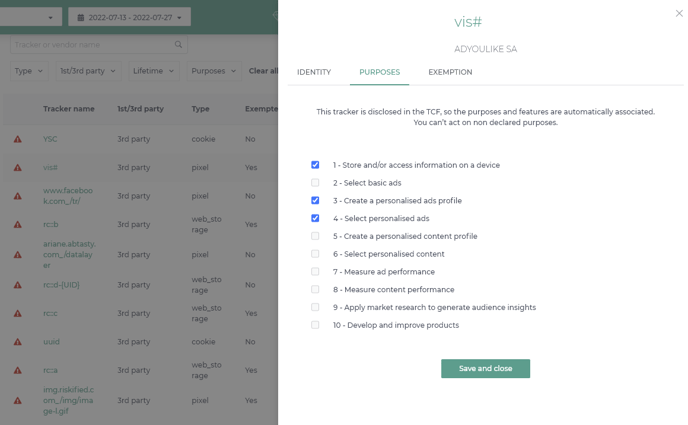 Go to the Exemption tab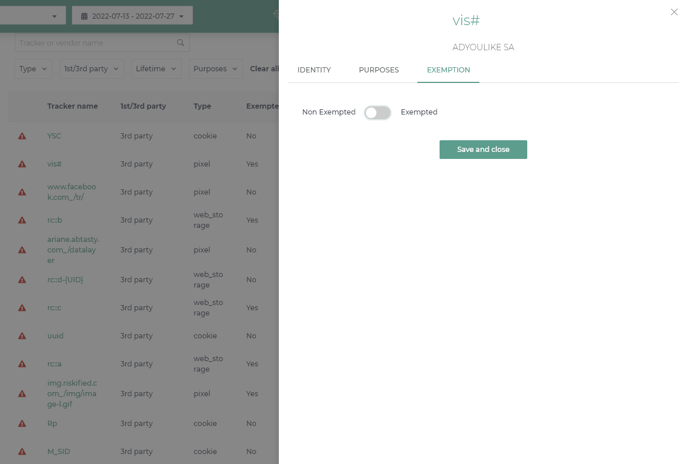 Click on the toggle button to allow the exemption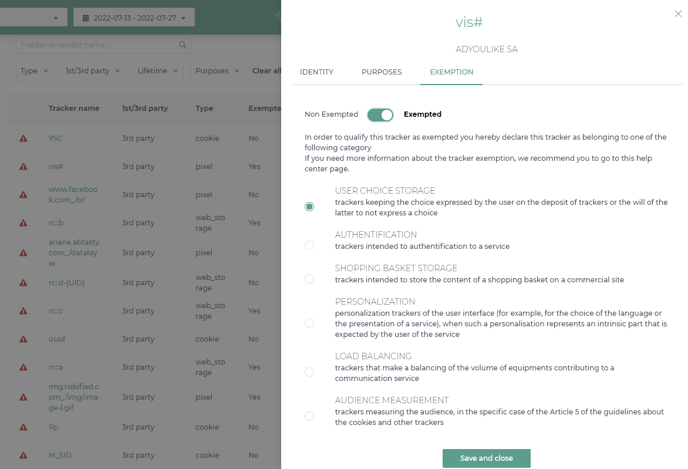 From here you must choose an exemption category for this tracker.
If you are not sure which category to choose we recommend you to read this page
Once you click on the Apply button, a confirmation message appears.

How to modify purpose of tracker
A tracker whose vendor is in the IAB TCFV2 already has purposes associated. Depending on the declaration of the vendor in the TCF, a tracker can be associated with multiple purposes. For this case, if you know what is the only purpose for this tracker you can unselect those that are not needed.
ℹ️ Keep in mind that a tracker needs at least to be associated with one purpose. You also can't add a purpose that were not declared by the vendor.
How to search for a specific tracker
Click on the search bar

Type the tracker name
If the tracker is detected on your property it should be displayed on the table
If not, 2 cases
1- the tracker was not found during the crawling of your website
2- the tracker is considered as unknown, meaning we have detected the tracker activity without a vendor associated to it. (see Unknown tracker section for more details for this case)
Save & export
Once you have finished working on your tracker list, go to the main page and click on the Export the Cookie Policy project button.

It will automatically download 2 files
ℹ️ Note that your browser can ask you to validate the downloading of multiple files simultaneously
The export of the Cookie Policy project is only available in English. In case of multiple languages on the website a manual translation is required.
Specific case
Unknown tracker
It can happen that some trackers are not correctly associated with a vendor.
In this case, by clicking on the tracker name a pop-in appears with a suggestion of vendor that you can associate.
If nothing matches, you can either search in the Agnostik Library or send a request to the customer support.