You can now create your own categories of purposes for your web or app notices. To do this, go to step 3 of the creation of your consent notice "VENDORS & PURPOSES".
You have to click on "+ADD CATEGORY". For instance, if you want to add a "Personalised Ads" category, you need to click on "+ ADD CATEGORY", give it a name and a description and hit the "SAVE CATEGORY" button.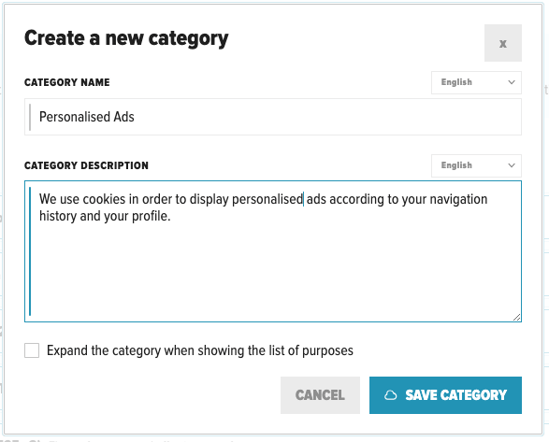 Do not forget to translate the name and the description of your custom category if you have selected several enabled languages in the "LOOK & FEEL" step of your cookie consent notice creation.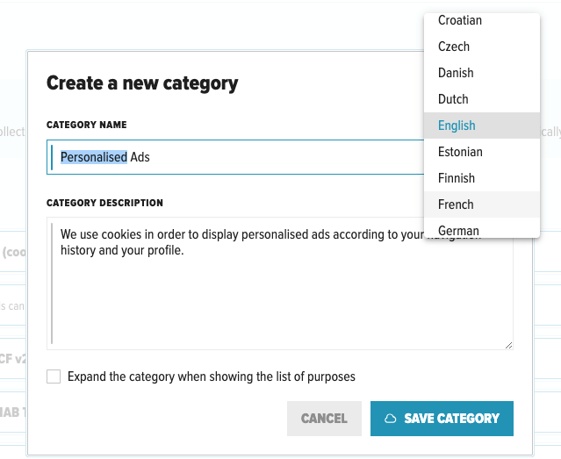 In order for the category to be displayed in the preferences view, you have to add at least one purpose to it.
To add a purpose, you have to drag and drop it under the category that you want to link it to. The purposes you can drag and drop will appear in this section according to the vendors you have selected above.
Once your category has been made, it will appear on the "preference view" of your consent notice. User will be able to accept all the purposes of the category in one click, and he can also make a more granular choice by accepting/refusing purpose by purpose.