The Content Manager feature allows you to display specific purposes and preferences in a widget.
How to hide/display a purpose or a preference?
Go to your Didomi Console.
Click on Preference Management, on the left menu.
Choose your widget.
Click on the pen icon to edit your widget.
Go on Content Manager page. On the right panel, you can find all purposes and preferences added in your Configuration Tree. From here, you can find a toggle for each section listed below.
To display a specific section, enable the toggle.
To hide a specific section, disable the toggle.
General Behavior
👉 Your preferences are nested within your purpose and your purpose can contain multiple preferences. Here, the preferences are independent from each other. It means that you can choose to hide one preference without hiding the nested ones.
👉 The Didomi platform provides a toggle to display or hide a section of your widget. You can decide to hide or display the following sections:
The consent request (1): purpose title, purpose description, Yes value, No value.
Preferences (2): To hide a preference, you need to hide all its value. Display the nested preference at a higher level of nesting.
Preference values (3): You can choose to display or hide one or several values included in a preference.
All purposes and preferences added to Configuration Tree after the creation of your widget will be disabled (hidden) by default.
Use cases
👉 Using the Content Manager allows you to select a section to display or hide. For example, the feature can be useful if you want to adapt the content of your widget to multiple brands.
Example
Consent request disabled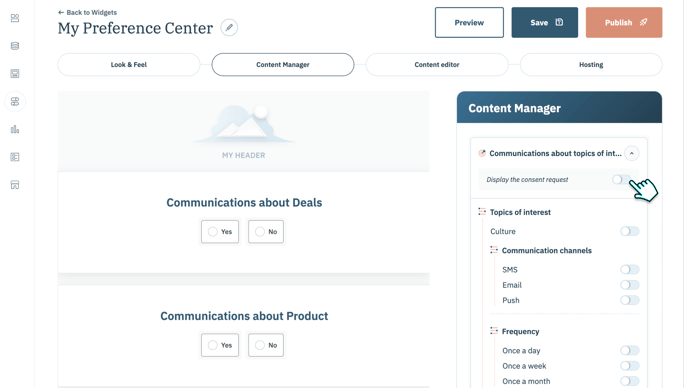 Consent request enabled