At the Regulations step of consent notice creation, you will need to select the vendors to be added to the notice for each regulation you want to cover. Vendors must then be linked to purposes.
Vendors in the Didomi Console:
There are two types of vendors in our database:
IAB vendors that are part of the IAB TCF Framework (linked to the IAB purposes they have chosen). You can find them in this list.
Vendors that are not part of the IAB TCF Framework (Non-IAB vendors).
You can also create your own vendors and link them to any purposes you wish to, even when the vendor already exists in the Didomi Database.
How can I create my own vendor?
You can either create a vendor directly in the Consent Notices section or in the Didomi Data Manager.
If you want to link your vendor to custom purposes, we suggest that you begin by creating your custom purposes.
To create a vendor via
Consent Notices,
on the
left side of your screen.
(1)
Select your notice.
Click on the Regulations tab of step 1. Regulations. (2)
Click on Edit Vendors & Purposes in the blue box below each regulation (3) :

4. Click on Add a new vendor (4).
Fill in the fields, beginning with vendor name (1).
Add the vendor's privacy policy (optional) (2).
Add purposes as needed. Scroll down to find the purposes you require.
👉If none of the purposes meet your needs, you can
create your own purposes
.
👉Vendors can have two types of legal basis for their purposes:
consent
or
legitimate interest
. You can
choose which legal basis
to assign to your custom vendors and purposes.
Choose your Purposes based on consent. (3)
Choose your Purposes based on legitimate interest. (4)
You can also link your vendor to the IAB purposes of your choice.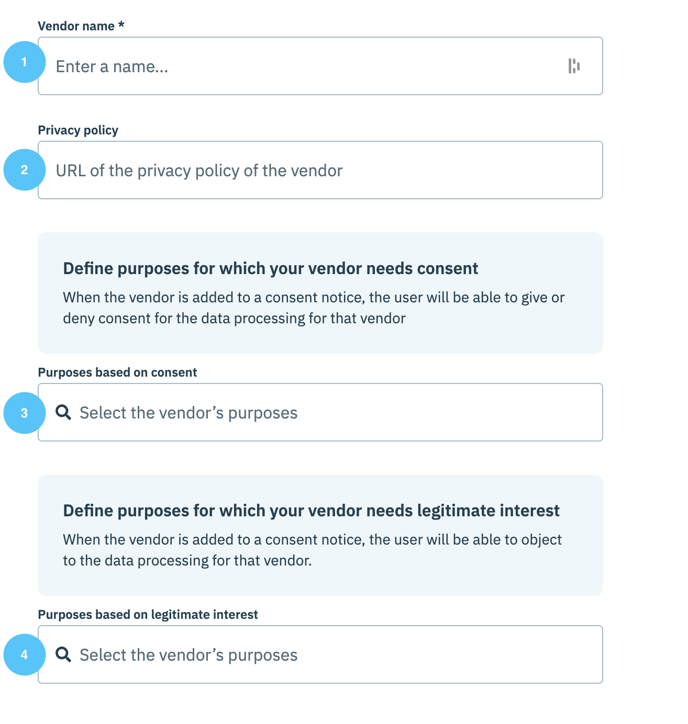 Add Sensitive Personal Information (SPI)
This section is only relevant if you plan to use a vendor for CPRA.
In this case, you need to list the SPI that your vendor is processing so it can be automatically reflected in the CPRA notice.
You can leave this empty if your vendor does not process SPI.
Add storage information (optional)
When adding a new custom vendor, either in the Data Manager or directly from the Regulations step of Notice Configuration, you can specify cookie and storage information.
Cookie information includes duration in seconds, days, or months.
In case the vendor has additional storage, this can also be added. Additional storage includes Cookies, App storage and Web storage with relevant information attached.
To specify additional storage, you need to provide the name, domain, and the purposes for which it is used.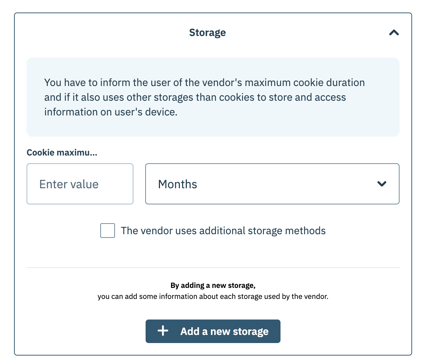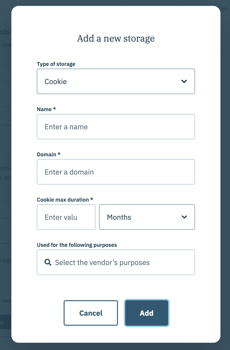 Add Contact information (optional)
If desired, you can include a company address, email or phone number (preferably the DPO or a privacy address).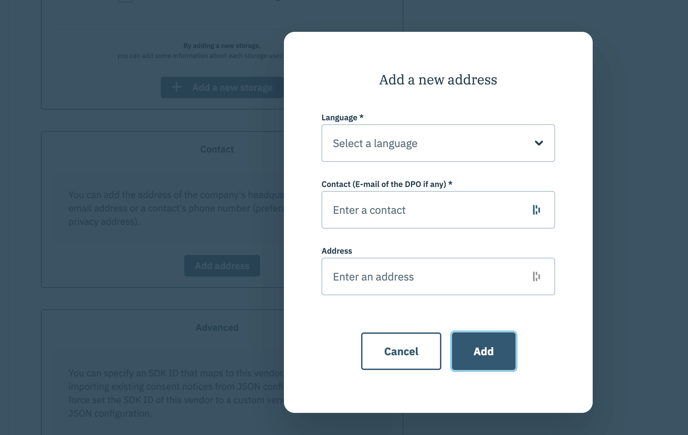 Add Advanced Information and other links (optional)
You can also add advanced information via the Advanced section.
In particular, you can specify a custom SDK ID that will map to this vendor if you need to force their SDK ID instead of using the generated ID (for example, if you import existing consent notices from JSON configurations).

Once you have filled in all the fields, click on Save.
To create a custom vendor from the Didomi Data manager (available from the left menu) section, click on the Vendors tab and then Add vendor +.

The information to fill out is the same as when you create the vendor from the notice configuration flow.
Update or delete a vendor
If you need to modify or delete any of the vendors you have created:
Go to the Data Manager section in the Didomi Console.
Click on the Vendors tab.
Search for the vendor you want to update or delete.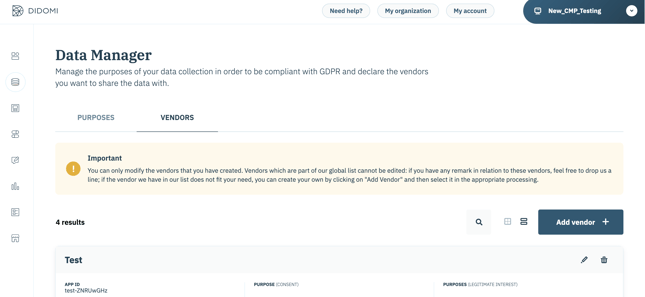 👉After all the information is provided and the notice is published, the details will be available across different SDKs in the vendors layer of your notices.