The ePrivacy directive allows certain cookies to be exempted from the requirement of consent, provided that they satisfy one of the following criteria:
✅ The cookie is used "for the sole purpose of carrying out the transmission of a communication over an electronic communications network".
✅ The cookie is "strictly necessary in order for the provider of an information society service explicitly requested by the subscriber or user to provide the service".

Note, this is not an exemption from the obligation of information, and your Privacy/cookies Policy must inform users about the use of such cookies .
Didomi enables you to create a Required Purpose for these necessary cookies that the user cannot refuse.
Steps for creating a Required purpose:
1. Create a custom purpose for necessary cookies.
To create a purpose, please refer to our documentation.
2. Link your purpose to a vendor
To create a vendor, please refer to our documentation.
3. Mark your purpose as "Required"
Select your notice.
Go on step 1. Regulations and the Regulations

tab .

(2)
Click on Edit Vendors & Purposes

in the blue box below each regulation

(3)

: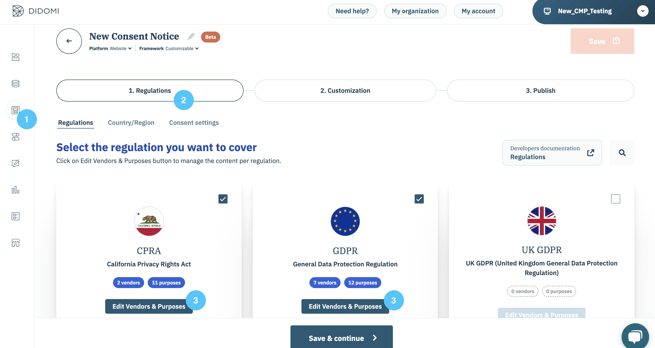 4. Select the vendor you created earlier in the vendors list.
5. Scroll down to the
Purposes
section and look for the purpose you created earlier.

6. Check the box "
Define as essential
" to make your purpose
Required
.

7. Your purpose will be
REQUIRED
in the Preferences view (i.e., Purposes layer) of your consent notice, and the user will not be able to reject the vendor linked to this purpose.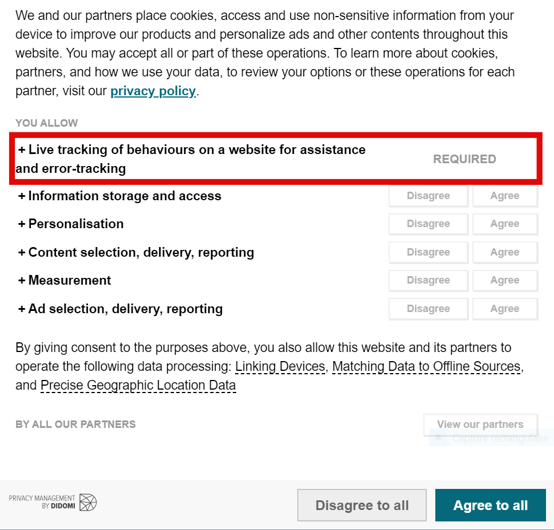 Click on SAVE & PUBLISH when you are done!