Analytics Data export is a premium feature. To enable it, please reach out to our CSM.
Scope of Analytics Data Export
The Analytics Data Export provides a way to access analytics data (aggregated data) collected through the Didomi platform at once, for CMP.
Once the Analytics Data Export is enabled by the Support team and properly configured, you will get the export dropped in the location configured in agreement with Didomi. The frequency of the drop will depend on the data source selected.
The data is available in the export from the moment the feature is enabled.
Data definition
Click here to download the data file.
If you only need daily data you can collect hourly data and aggregate it at the day level.
Enrich the analytics with the notice information
With the Didomi Rest API, you can enrich the analytics data (accessible through the Analytics Export) with the notice settings: name, creation date, negative action… providing more context and perspective to understand the notice's performance.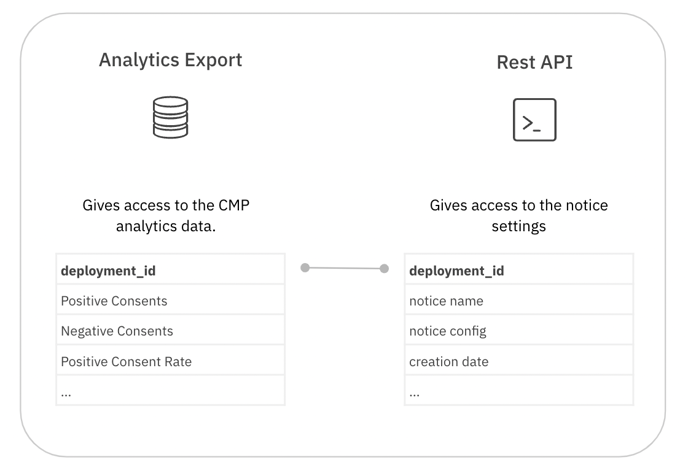 Analytics Data Export - Use cases
Custom metrics:

we provide the following standard list of metrics. The Analytics Data Export offers the opportunity to create your own list of metrics.

Data integration:

exporting and hosting your data offers the opportunity to integrate your data in you own reports.

Custom Dashboards:

the feature is the opportunity to build your own dashboards.

Outsider data access:

you can give access to part or all of your data without creating user account(s).

Full Data History:

we provide a limited lifetime for the data in the analytics section (14 days for the hourly data and 1 year for the daily data).

Integrating the data in your own infrastructure will enable you to save the data as long as you wish.