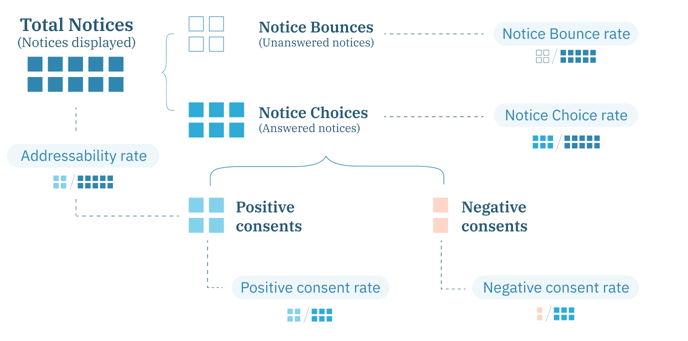 🔎Didomi collects events through the SDKs deployed on your properties (websites, mobile apps, privacy Centers, etc.) and provides aggregated analytics in the Didomi Console.
📊 The Analytics section available in the left menu of the console provides a series of metrics. You can apply filters to obtain subsets of metrics across various dimensions. Consult our article on filters to learn more.
Some dashboards in the Analytics section are updated weekly and some are updated hourly. Read this article to learn more about dashboard updates.
Note: Webview and external consents given are not taken into account in the metrics calculations. Webview Consent data are available in the App Session dashboard and External Consent data is in Domains & Apps dashboard. Both can also be found at Custom Report.
CMP Metrics
This article presents and defines the metrics that you can find in the Analytics section regarding the CMP:
📊 METRIC NAME

📕 DESCRIPTION

✍️ FORMULA

Total Notices or notices displayed

Total notices are the number of notices displayed. This metric is not deduplicated by users. If a user sees a notice multiple times, the notice will be counted each time.

Total notices =

consents asked

Total Choices or Consents

Total choices is the number of consents given. It covers positive consent given and negative consent given.

Total choices = positive consents + negative consents

Notice Bounces (or No Choices)

A notice bounce is counted each time a consent has been asked but not answered. In other words, when the notice has been shown but the user has not accepted or denied consent.

Notice bounces = consents asked - total choices

Notice Bounce Rate

The notice bounce rate is the percentage of consent notices displayed but not answered. It's the consent notices not answered divided by all the consent notices displayed.

Notice bounce rate = bounces / consents asked

Notice Choice Rate

The notice choice rate is the opposite of the notice bounce rate. It's the percentage of consents (positive or negative) over the total consents asked.

Notice choice rate = total choices / consents asked

Positive Consents

A positive consent is counted each time a user accepts at least one purpose selected.

-

External Positive Consents

A positive consent is counted each time a user accepts at least one purpose selected outside of the consent notice.

-

Positive Consent Rate

The positive consent rate is the number of positive consents among all the consents given. In other words, it is the total positive consents divided by total consents given. More details here.

Positive consent rate = positive consents / total choices

Negative Consents (or Denied Consents)

A negative consent is counted when a user denied all the purposes.

-

External Denied Consents

A negative consent is counted when a user denied all the purposes outside of the notice.

-

Negative Consent Rate

The negative consent rate is the number of consents denied among the total consents. It's the total of consents denied divided by the consents given.

Negative consent rate = negative consents / total choices

Addressability Rate

The addressability rate is the number of positive consents divided by the number of consents asked. It gives the percentage of users who replied positively to a consent asked. More details here.

Addressability rate = positive consents / consents asked

Purpose Changed

The purposes changed metric is the number of users (IDs) who have changed, at least one, purpose (turn-off or turn-on).

-

Vendor Changed

The vendors changed metric is the number of users (devices) who have changed, at least one, vendor (turn-off or turn-on).

-

Vendor Personalization rate

The vendor personalization rate is the percentage of consents with a modified list of vendors.

Vendor personalization rate = vendors changed / total choices

Purpose personalization rate

The vendor personalization rate is the percentage of consents with a modified list of purposes.

Purpose personalization rate = purposes changed / total choices

Pageviews

A pageview is counted each time a web page is loaded and therefore, the CMP web SDK is loaded as well.

Pageviews are sampled. Please refer to the Events and sampling section of the documentation to know more about the sampling method.

-

App Sessions

A session is counted each time a user launches the application.

Sessions are sampled. Please refer to the Events and sampling section of the documentation to know more about the sampling method.

-

Consent rate by pageview

The consent rate by pageview measures the percentage of the pageviews on your website with a positive consent given (at least one purpose by the user) over the total volume of pageviews.

Pageviews are sampled. Please refer to the Events and sampling section of the documentation to know more about the sampling method.

Consent rate by pageview = pageviews with positive consents / total pageviews

Consent rate by app session

The consent rate by app session measures the percentage of the app sessions with a positive consent given (at least one purpose) over the total volume of sessions.

Sessions are sampled. Please refer to the Events and sampling section of the documentation to know more about the sampling method.

Consent rate by app session = app sessions with positive consents / total app sessions

Experiment Lift

When running an AB test (or experiment), the experiment lift measures the increase or decrease of the consent rate from the configuration changes being tested

Experiment Lift = (test group consent rate - control group consent rate) / test group consent rate

No Choice Rate (Pv)

The No Choice consent rate by pageview measures the percentage of the pageviews with no consent given over the total volume of pageviews.

No Choice Rate (Pv) = pageviews with no consent available/ total pageviews

No Choice Rate by session

The No Choice consent rate by session measures the percentage of the sessions with no consent given over the total volume of sessions.

No Choice Rate (Session) = sessions with no consent available/ total sessions

Negative Consent Rate by pageview

The Negative consent rate by pageview measures the percentage of the pageviews with negative consent over the total volume of pageviews.

Negative Consent Rate (PV) = pageviews with negative consents / total pageviews

Negative Consent Rate (Session)

The Negative Consent rate by session measures the percentage of the sessions with negative consent over the total volume of sessions.

Negative Consent Rate (Session) = sessions with negative consents / total session

Pageviews without consent

Pageviews where the consent is not positive. The consent can be negative or empty (no choice).

-

Sessions without consent

Sessions where the user consent is not positive. The consent can be negative or empty (no choice).

-

Purposes view rate

Percentage rate that allows you to know the influence of your purposes compared to the total amount of notices.

Total shown purposes/Total notices

Vendors view rate

Percentage rate that allows you to know the influence of your vendors compared to the total amount of notices.

Total shown vendors/Total notices